PROFESSIONAL QUALITY FOR LOW BUDGETS!

An incredible low cost weather station, also available with WIRELESS sensors for
semi professional use. Connect your Vantage Pro to internet!

New: Weatherlink iP with optional WiFi , see our webshop




EKOPOWER also supplies professional weather stations according to your
specific requirements and specifications.
EKOPOWER supplies also a wide range of windmeters, wind & solar energy
monitoring systems and wind sensors!
Applications Vantage Pro



* meteorology (professional, semi-professional, amateur meteorology)
* agro meteorolgy
* energy (wind, solar etc)
* environment
* health (UV index/dose monitoring for skin protection)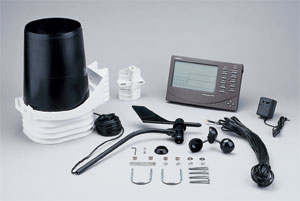 The latest in weather technology! Our Vantage Pro weather
stations offer forecasting, on-screen graphing, and much more.
Quick view icons show the forecast at a glance—sunny, partly
sunny, cloudy, rain or snow—while a moving ticker-tape display
gives more details.
Our innovative integrated sensor suite combines our rain
collector, temperature and humidity sensors, and anemometer
into one package—making setup easier than ever and improving
performance and reliability.
For improved accuracy, temperature and humidity sensors are
housed inside a radiation shield. The shield protects against solar
radiation and other sources of radiated and reflected heat.
Available in both wireless (nr 6152EU) and cabled (nr 6152CEU) versions.
The standard 6152 version can be expanded with a solar radiation sensor
(nr 6450) and/or UV sensor (nr 6490) and mounting bracket (nr 6673)
All together we call it a Vantage Pro Plus (refer below)
With UV sensor the amount of UV dose and index can be monitored.