Unlimited global access

ONLINE options for iBOX and iSENSE

1. Optional Online VALUES & GRAPHS at LAPTOP, SMARTPHONE, TAB etc:


"App-Free" for all Operating System: iPhone, iPad, Android, Blackberry & Windows Systems!
Sensor/ signal >>> iBOX-2S >>> INTERNET >>> Graphs >>> User
Two types of Graphs systems are available for iBOX-2S systems:
* WebGraphs: Customised webpages with (daily/weekly) Online Graphs
* Smartgraphs: a new Online Graph Platform including Historical Graphs
* Online Demo SmartGraphs: ask for username and password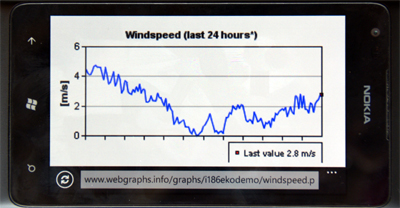 2. Local and Remote Access to iBOX datalogger


Read values and set (up to 3) Control outputs via embedded webserver
using your Browser not only local but ALSO remote over internet with wired
OR wireless internet connection at the iBOX end. See demo.
Moreover data can simply be transferred to a PC, laptop or Tablet using the SD Card!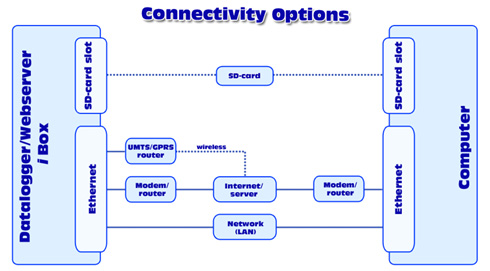 The local contact to the iBOX can be made via wired Ethernet connection or optional
via WiFi (WLAN) and via UMTS/3G router (WWAN): a remote wireless connection to internet,
which enable remote access to an iBOX without wired internet connection!
The 3G router can also communicate local via WiFi to more iBOX units (via WiFi).
+

3G Wireless Options for local (WLAN) or remote/mobile (3G)

For remote locations without mains power the iBOX can be operated in ultra low power
mode and the 3 G router is only switched on during data transfer.
In this case the system can run at batteries, with or without a solar charger.

3. Data to your Personal FTP-Cloud or VPS


As the iBOX has an embedded FTP client, data can be send automatically at pre adjusted
intervals to a FTP server (with static ip address!).
Data can be send to:
> Your own Windows VPS server cheap to rent from eg Strato.com (less then 10 euro/month) or:
1 A private NAS System (Network Attached Storage), connected to internet with static ip address
(ask your internet provider!). In this way you can create your own private Cloud!
2 A Cloud service with static ip address (like eg https://hostedftp.com/) or any other FTP server
3 You may also expand your windows PC with server function using IIS (Windows Professional)
4 Your own server or a directory in your website (with static iP address and FTP access)
>We recommend to backup the data using an external Cloud (with automatic synchronisation)

By using the FTP server it is possible:
- to send data automatically from iBOX to the FTP cloud/server in a (preset) directory & interval
- obtain the data from the FTP Cloud to your PC using:
> a FTP program like Filezilla (and/or receive files automatically via email)
> or use Netdrive2, so the data is available at your PC as local or network drive!

As the continuity is important for professional applications, use a reliable (FTP) Server or Cloud.

4. Data to Server


Data can also be send to your own server (or VPS) or the server of your website,
also from a remote location via optional 3G router and safe isolated from your own network!
> Your own Windows VPS server cheap to rent from eg Strato.com (less then 10 euro/month)

5. ONLINE Graphs


Online Graphs are optional and can be designed according to your project
When the data is send to our server we can host the Online Graphs for you! Ask a quote.
In some cases you can run graphs at your own server (ask for requirements and conditions).




App-free Online Graphs at your Smartphone or TAB

You may also use customised online charts using eg:
* WebGraphs: Customised webpages with (daily/weekly) Online Graphs
* Smartgraphs: a new Online Graph Platform including Historical Graphs
* Online Demo SmartGraphs: ask for username and password
Google Charts

6. ONLINE WEB-display


Web displays are optional and can be designed according to your project
Alphanumeric webdisplays or infographic web displays:
Also when the data is send to your own server or Cloud it may be possible to host a Web Display for you!
In some cases you can run web displays at your own server (ask for requirements and conditions).


Temperature Eindhoven


7. Alarm & Remote Control Functions


If a preset alarm condition is active an alarm notification can be send via email (smtp protocol)
Also an additional alarm output is an option for switching a relais (220 V /6A)
Moreover switches can be operated remote via your browser or smartphone
Online options are possible for:


- iBOX (datalogger with embedded webserver, Ethernet/WiFi/GPRS/3G Router)
- iSENSE iP sensors/transducers (with Ethernet/WiFi/GPRS/3G Router)